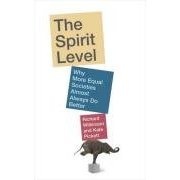 Excellent book. I will buy a few copies for friends.
The Spirit Level: Why More Equal Societies Almost Always Do Better by Richard Wilkinson and Kate Pickett, a book published by Penguin in March 2009.
The fact that many poor outcomes are linked with poverty is well known. What the authors point out is that there is strong evidence showing that the level of poverty is much less important than the level of inequality in a society. Inequality causes health and social problems to people at the bottom but also at the top of the spectrum. So inequality is a lose lose situation.
As a science books this is well written, well documented, it deals with possibly the most serious political issue of our time, it is never patronising to the reader, and I was impressed by its scope: evidence comes from epidemiology, psychology, economics, sociology and more. 
We should really send a copy of this book to each and every politician in the country. In recent times politicians have become obsessed with wealth creation. But wealth is a means not an end, and they are missing the forest for the trees.
I chose this graph on Obesity for inclusion, but other factors looked at are: Physical Health, Mental Health, Drug Abuse, Education, Imprisonment, Social Mobility, Trust and Community Life, Violence, Teenage Births, Child Well-being, Recycling.

There is also a website:
http://www.equalitytrust.org.uk/